Monday 12 July 2021
Publications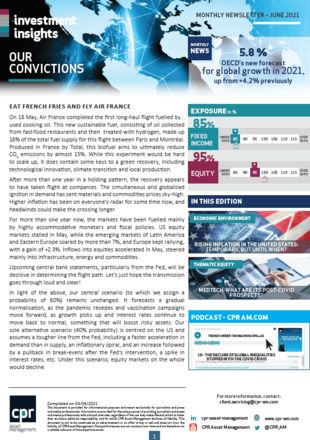 Investment Insights - July 2021
Please find below our publication "Investment insights" which will give you our vision of the market and our 3 months scenario.
WHAT ABOUT THIS SUMMER ? THE SEA, THE COUNTRYSIDE OR OUTER SPACE?
What do Jeff Bezos, Richard Branson and Elon Musk all have in common? On top of having conquered the world with Amazon, Virgin and Tesla, respectively, the three billionaires have now set their sights on conquering outer space and are competing with one another on the space tourism market. Branson and Bezos are expected to strap on their astronaut suits themselves in July. At a time when the pandemic has made most earthlings reluctant to venture beyond their countries' borders, Bezos and Branson will be launching themselves into the weightlessness of outer space.
Holiday winds are not yet blowing across growth and the markets. Quite the contrary. In June, the US bond market was once again on investors' radar, and the global recovery looks as strong as ever. US bond yields fell unexpectedly in June, with 30-year paper down by 20 bp, at one point falling below 2%. This spilled over into the equity markets, triggering a reversal in trend on the month between Growth and Value, respectively up by 4.47% and down by 1.33% in USD in their MSCI World components.
Economies are just now opening up, and the heavy surplus savings piled up by households is likely to provide sustained support to consumption. The inflation momentum narrative looks very solid on the whole. While North American economic data are no doubt close to peaking, global economic activity should remain quite robust in the coming months.
We have raised the probability of our central scenario central (to 70%), which assumes a gradual normalisation as the pandemic recedes, stronger growth and a tapering announcement in late August. All this would help bond yields continue to normalise, along with moderate gains in the equity markets. Our alternative scenario (30% probability) is focused on the US and the Fed, with demand outstripping supply, an inflationary spiral, an increase in break-evens after Fed intervention, etc., which would trigger a spike in interest rates and declines in the equity markets.
SUSTAINABLE DEVELOPMENT - Hearnessing decarbonized energy to power growth
THEMATIC EQUITY - Food for Generations, putting food's sutainable transition on the menu
Overview of our market scenarios as of 24 June 2021
Central Scenario: Gradual normalisation
Scenario 1: The FED is late and must react
Our next publication will be published in September 2021. Our teams are at your disposal for any complimentary information
Sign up to our newsletter
Follow the latest news from CPR AM in our monthly publication "Investments Insight, our convictions": our market vision, our 3-month scenarios, and many exclusive articles from our experts.
Subscribe