Wednesday 12 May 2021
Publications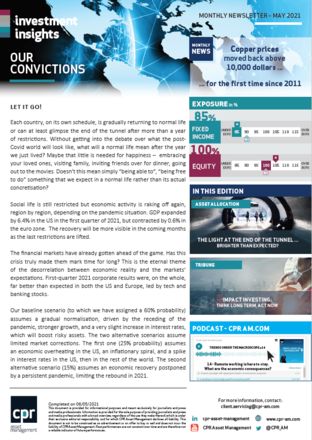 Investment Insights, our convictions - May 2021
Please find below our publication "Investment insights" which will give you our vision of the market and our 3 months scenario.
LET IT GO!
Each country, on its own schedule, is gradually returning to normal life or can at least glimpse the end of the tunnel after more than a year of restrictions. Without getting into the debate over what the post- Covid world will look like, what will a normal life mean after the year we just lived? Maybe that little is n eeded for happiness – e mbracing your loved ones, visiting family, inviting friends over for dinner, going out to the movies. Doesn't this mean simply "being able to", "being free to do" something that we expect in a normal life rather than its actual concretisation?
Social life is still restricted but economic activity is raking off again, region by region, depending on the pandemic situation. GDP expanded by 6.4% in the US in the first quarter of 2021, but contracted by 0.6% in the euro zone. The recovery will be more visible in the coming months as the last restrictions are lifted.
The financial markets have already gotten ahead of the game. Has this crisis truly made them mark time for long? This is the eternal theme of the decorrelation between economic reality and the markets' expectations. First-quarter 2021 corporate results were, on the whole, far better than expected in both the US and Europe, led by tech and banking stocks.
Our baseline scenario (to which we have assigned a 60% probability) assumes a gradual normalisation, driven by the receding of the pandemic, stronger growth, and a very slight increase in interest rates, which will boost risky assets. The two alternative scenarios assume limited market corrections. The first one (25% probability) assumes an economic overheating in the US, an inflationary spiral, and a spike in interest rates in the US, then in the rest of the world. The second alternative scenario (15%) assumes an economic recovery postponed by a persistent pandemic, limiting the rebound in 2021.
ASSET ALLOCATION - The light at the end of the tunnel... Brighter than expected?
TRIBUNE - Impact Investing: Think long term, act now
Overview of our market scenarios as of 26 April 2021
Central Scenario: Gradual normalisation
Alternative Scenario 1: Fears of overheating in the US
Alternative Scenario 2: A postponed reopening limits the rebound in 2021
Our next publication will be published in June 2021. Our teams are at your disposal for any complimentary information.
Sign up to our newsletter
Follow the latest news from CPR AM in our monthly publication "Investments Insight, our convictions": our market vision, our 3-month scenarios, and many exclusive articles from our experts.
Subscribe