Monday 15 March 2021
Publications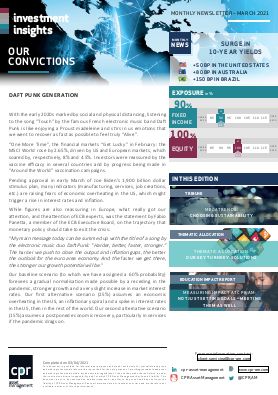 Investment Insights, our convictions - March 2021
Please find below our publication "Investment insights" which will give you our vision of the market and our 3 months scenario.
DAFT PUNK GENERATION
With the early 2020s marked by social and physical distancing, listening to the song "Touch" by the famous French electronic music band Daft Punk is like enjoying a Proust madeleine and stirs in us emotions that we went to recover as fast as possible to feel truly "Alive".
"One More Time", the financial markets "Get Lucky" in February: the MSCI World rose by 2.65%, driven by US and European markets, which soared by, respectively, 8% and 4.5%. Investors were reassured by the vaccine efficacy in several countries and by progress being made in "Around the World" vaccination campaigns.
Pending approval in early March of Joe Biden's 1,900 billion dollar stimulus plan, many indicators (manufacturing, services, job creations, etc.) are raising fears of economic overheating in the US, which might trigger a rise in interest rates and inflation.
While figures are also reassuring in Europe, what really got our attention, and the attention of ECB experts, was the statement by Fabio Panetta, a member of the ECB Executive Board, on the trajectory that monetary policy should take to exit the crisis:
"My main message today can be summed up with the title of a song by the electronic music duo Daft Punk: "Harder, better, faster, stronger." The harder we push to close the output and inflation gaps, the better the outlook for the euro area economy. And the faster we get there, the stronger our growth potential will be."
Our baseline scenario (to which we have assigned a 60% probability) foresees a gradual normalisation made possible by a receding in the pandemic, stronger growth and a very slight increase in market interest rates. Our first alternative scenario (25%) assumes an economic overheating in the US, an inflationary spiral and a spike in interest rates in the US, then in the rest of the world. Our second alternative scenario (15%) assumes a postponed economic recovery, particularly in services if the pandemic drags on.
TRIBUNE - Megatrends, choosing sustainability
THEMATIC ALLOCATION - Our key turnkey solutions
EDUCATION IMPACT REPORT - Measuring impact at CPR AM, not just setting goals - meeting them as well
Overview of our market scenarios as of 25 March 2021
Central Scenario: Gradual normalisation
Alternative Scenario 1: The machine takes off in the US
Alternative Scenario 2: A postponed reopening drags down the services sector
Our next publication will be published in April 2021. Our teams are at your disposal for any complimentary information.
Sign up to our newsletter
Follow the latest news from CPR AM in our monthly publication "Investments Insight, our convictions": our market vision, our 3-month scenarios, and many exclusive articles from our experts.
Subscribe