Wednesday 14 April 2021
Publications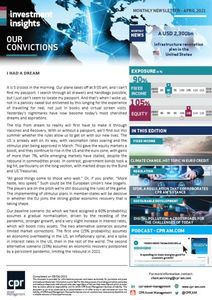 Investment Insights, our convictions - April 2021
Please find below our publication "Investment insights" which will give you our vision of the market and our 3 months scenario.
I HAD A DREAM
It is 5 o'clock in the morning. Our plane takes off at 9:00 am, and I can't find my passport. I search through all drawers and handbags possible, but I just can't seem to locate my passport. And that's when I woke up, not in a panicky sweat but enlivened by this longing for the experience of travelling for real, not just in books and virtual screen visits. Yesterday's nightmares have now become today's most cherished dreams and aspirations.
The trip from dream to reality will first have to make it through Vaccines and Recovery. With or without a passport, we'll find out this summer whether the rules allow us to get on with our new lives. The US is already well on its way, with vaccination rates soaring and the stimulus plan being approved in March. This gave the equity markets a boost, and they continue to rise in the US and the euro zone, with gains of more than 7%, while emerging markets have stalled, despite the rebound in commodities prices. In contrast, government bonds took a big hit, particularly on the long section, with marked drops by the Bund and US Treasuries.
"All good things come to those who wait." Or, if you prefer, "More haste, less speed." Such could be the European Union's new slogans. The players are on the pitch we're still discussing the rules of the game. The implementing of stimulus plans in member-states will be decisive in whether the EU joins the strong global economic recovery that is taking shape.
Our baseline scenario (to which we have assigned a 60% probability) assumes a gradual normalisation, driven by the receding of the pandemic, stronger growth, and a very slight increase in interest rates, which will boost risky assets. The two alternative scenarios assume limited market corrections. The first one (25% probability) assumes an economic overheating in the US, an inflationary spiral, and a spike in interest rates in the US, then in the rest of the world. The second alternative scenario (15%) assumes an economic recovery postponed by a persistent pandemic, limiting the rebound in 2021.
FIXED INCOME - Climate change, hot topic in euro credit
REGULATION - SFDR, a regulation that corroborates CPR AM's stance
SUSTAINABLE DEVELOPMENT - Digital Pollution: a crossroads for the challenges of today
Overview of our market scenarios as of 26 March 2021
Central Scenario: Gradual normalisation
Alternative Scenario 1: Fears of overheating in the US
Alternative Scenario 2: A postponed reopening limits the rebound in 2021
Our next publication will be published in May 2021. Our teams are at your disposal for any complimentary information.
Sign up to our newsletter
Follow the latest news from CPR AM in our monthly publication "Investments Insight, our convictions": our market vision, our 3-month scenarios, and many exclusive articles from our experts.
Subscribe